Remembering lyrics of Charles Wesley and Bruce Springsteen, Bishop David Bard, reflects on the nature of darkness and light. Looking ahead, he forecasts "The new year will not be dull." …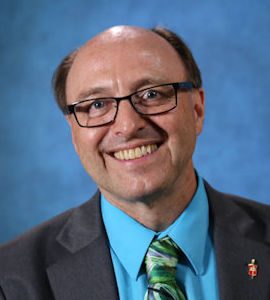 I am thinking of the verse from Isaiah often read on Christmas Eve: "The people who walked in darkness have seen a great light; those who lived in a land of deep darkness – on them light has shined."
I am hearing echoes of other phrases and songs – the title of Bruce Springsteen's album released just before I saw him in concert in St. Paul when I was in college, "Darkness on the Edge of Town;" the line from a Robert Frost poem, "the woods are lovely, dark and deep;" the last line of a poem by William Stafford, "the darkness around us is deep."
Darkness, deep darkness, the darkness around us is deep. The body of a migrant fleeing violence in his country floating dead next to his daughter's also lifeless body in the Rio Grande River. Deep partisan divides that seem to get in the way of accomplishing things for the common good. The tenacity of racism. A church trying to navigate its way toward a less contentious future, yet escalating contentiousness along the way. Human frailties leading to human wounds.
There are moments when the darkness feels deep, where it seeps into the marrow of my bones, into the recesses of my soul, moments of profound sadness and grief.
Yet I hear the echo of another song, "Light and life to all he brings, risen with healing in his wings" (Charles Wesley, "Hark the Herald Angels Sing").  God's redemptive work continues on – healing, wholeness, compassion, kindness, justice, feeding, caring loving, light. We don't ignore all the pain, sadness, grief, deep darkness, but we trust that God remains at work, shining light that helps us see more clearly and deeply and helps us love more profoundly as we move into an uncertain future.
The Christmas story is not just about angels singing and stars shining, it is also about the difficulty of birth, about living in occupied territory in an imperial system, about being on the margins. It is, then, a story about hope caked with mud, or perhaps whatever else manger animals leave behind. Hope caked with mud understands that there may be times when the epitome of courage is showing up, taking the next step when the way forward is shrouded in darkness, making the next phone call, sending the next email, starting the next sermon. I hear the echo of a Bob Dylan song, "They say the darkest hour, is right before the dawn."
I cannot promise an easy new year for the Michigan Conference. We face some financial challenges. We face the challenges of our denomination. We face the challenges of every denomination in the United States – declining participation. I cannot promise that there will not be days when the darkness feels deep. What I can say is that I will work with you to live more in the light (an echo of another song – "We Are Called"). I will work with you so that we might all better work with God toward healing, wholeness, compassion, kindness, justice, feeding, caring and loving. God's redemptive work in the Michigan Conference of The United Methodist Church is not over yet.
After the first of the year, I will be gathering groups of people to help us think together about the future and to manage current uncertainties. We don't know what might come with General Conference 2020, but we need to make some preparations for likely scenarios. As ideas are developed, they will be widely shared for feedback and improvement. It seems clear that as we consider a future, there will not be an overarching vision around which all Michigan United Methodist will unite, at least unite in the way we are currently organized. We will need to think together about what kindness and compassion look like as new space is created within the denomination, even here in Michigan.
Moving into the future will require our most creative thinking, our most adventurous spirits, our deepest listening, our most capacious hearts – hearts enlarged by courage and kindness. We are anxious, but giving in to our anxiety tends to restrict our thinking, mitigate our sense of adventure, interfere in our communication, and shrink our hearts. The new year will not be dull, and I've often been reminded in recent days that I ran for this job. Stay tuned and hang on.
As the year comes to a close, and a new one begins I remain grateful to you, Michigan United Methodists, for being people who, knowing the light of God's grace seek, in turn, to shine that light into the world. Thank you for being part of God's work of shining light and love into our world where the darkness around us is often deep.  It is my privilege to share this work with you, and it remains a joy, a joy also caked with mud.